1xbet Road Safety world Series
The legends of cricket are back on the field, can you believe it? They will not be coaching this time but playing themselves for real. It is an opportunity no one must miss, so search the top 10 bookies in India and select the one you would like to play this with. There are many premium Indian betting sites, you must visit them and get to know more in detail about this once in a lifetime event. You never know if they will ever play again or not on the field like this. The legends have officially retired, they are back only for the social cause of road safety. The players are from well-known countries like South Africa, India, West Indies, Sri Lanka, and Australia. You can further look for dates and venue if you want to be there personally on 1xBet India, else have fun betting on 1xBet online.
1xbet Road Safety World Series Analysis
The series is going to begin on 07.03.2020 and it is going to be a match between India Legends and West India Legends. The list of possible players is very interesting as most of the veteran players who can still play out there on the field are going to sweat it out.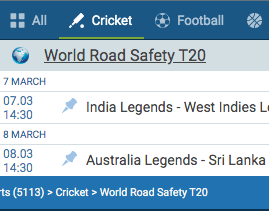 From Team India players will be Sachin Tendulkar, Zaheer Khan, Ajit Agarkar, Virender Sehwag, Yuvraj Singh, Irfan Pathan, and others.
While for team West Indies the players will be Brian Lara, Samuel Badree, Sulieman Benn, and Ramnaresh sarwan, Dareen Ganga, Carl Hooper, Ridley Jacobs, and Shivnarine Chanderpaul.
The Australian team will be Brett Lee, Nathan Reardon, Shane Lee, Travis Brit, Brad Hodge, Clint Mc Kay, Brett Geeves, George Green, Jason Krejza and Xavier Doherty.
On the South African team players like Jonty Rhodes, Andrew Hall, Andrew Butch James, Ryan McLaren, Moren Van Wyk, Neil Rhodes, Garnett John Peter Kruger, Albie Morkel, J Rudolph, Lance Klusener.
Last but not least the team on Sri Lankan side will be Tillakaratne Dilshan, Marvan Atapattu, Thilan Tushara, Muttiah Muralitharan, Farveez Maharoof, Upal Chandana, Dulanjana Wijesinghe, Thilina Kandamby, Sachithra Senanayake, Chamara Kapugedara.
Our Word
It is going to be great to see these Legends who used to out-perform in test and ODI format play the T20 series. You can use the 1xBet login and see the stakes for each match. While for the winner of the series the stakes are (India 1.73, West Indies 7, Australia 11, Sri Lanka 6and South Africa 5.5). You must also try 1xbet android in India and have more fun on the go. You can be moving and playing at the same time. Get registered on 1xBet app and enjoy betting on these wonderful matches. These players are the world best entertainers as well as best cricket players, so hurry and 1xbet login India. While betting does check out the latest 1xBet bonus they are offering. And if you are new use a 1xBet welcome bonus.