India vs New Zealand 1st Test match odds comparison
Have you analyzed your bet for the latest game in cricket? Yes, we are talking about the test series between New Zealand and India. It is going to be a two-match series, with the first one commencing on 21st February 2020. This test series is following an ODI series which India lost badly. New Zealand played well in that series and won all the three matches and secured a big win. You can follow the test series on any of the premium bookmakers in India. You can choose from a few like 10cric India or Betway India. You can choose to become a member of one or more sites at the same time and make the most out of betting with online bookmakers.
Betting Prediction through 10Cric and Betway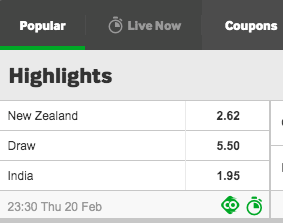 You can take reference from 10cric review or Betway review and then place a bet or go by your gut. The stakes currently on Betway are (New Zealand 2.40, India 2.10 and Draw 5). Whereas; for 10cric the stakes are (New Zealand 2.55, India 2.15 and Draw 4.75). It is your choice to place a bet on these pre-match bets or you can play a live bet. The stakes will be varied for live bet as the match proceeds. Though you may like to think that similar to the ODI series New Zealand is going to be the stronger side; as their confidence is high at the moment. But the Indian team will also not sit quietly; they will come up with a new strategy and try to put their best foot forward.
10Cric vs Betway odds for the 1st test IndvsNZ
We would like to tell you that the lineup for the ODI and test series will vary. So the performance shall also differ. If you take a look at the lineup for the match you will see that Daryl Mitchell, Henry Nicholls, and Ross Taylor are in the team. Whereas for India players like Virat Kohli, Ravindra Jadeja and Hanuma Vihari will be on the field. Now if you are new to the game of betting we suggest that you must try a 10cric bonus code or Betway bonus code given to you upon joining them. They will allow you to place a bet for more than what you bet.
Our Word
If you are a regular player then complete 10cric app download or Betway app download, whichever you want to play on. If you play regularly then you can also become a VIP member and get loyalty rewards given time and again. In cricket betting, there are options to place a bet based on runs or wickets also. You don't just have to place a bet on the entire game, log in and search for more options. When you become a seasoned player you will get to know of new ways to earn more.