Rajabets 10% Instant Cashback Bonus Offer
Indian bettors are the most active customers of several sportsbooks. All betting sites try to engage and retain these customers by offering them several bonuses. The players are required to play actively and get higher in customer rankings to get a wide range of privileges in terms of money or prizes. This article discusses one of the youngest yet rising betting apps in India and its cashback offer.
Rajabets is a budding sportsbook that got recognition in a short span of time. It mainly focuses on Asian punters and readily accepts Indian customers. The bookie is famous for its secured transactions and privacy of customers.
The rajabets bonus offers are very generous. Customers can claim a 100% welcome bonus offer with a minimum deposit of ₹100. There are other bonus offers too that hold the bettors. One such offer is a 10% instant cashback offer.
About Rajabets 10% Instant Cashback Offer
This offer can be found under promotions on the bookie's website. The rajabets app also gives constructive access to this bonus offer. It allows fast withdrawal and accepts different payment platforms. Starting from Visa cards to cryptocurrencies all systems are accepted.
User needs to do rajabets login and then fill up their details under the deposit section along with the amount. The process is very smooth and easy.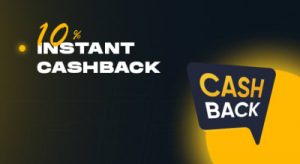 The instant cashback offer is available to the customers on daily basis. It is applicable to all sports betting. A minimum amount of ₹200 deposits and losses should be maintained in 24hrs. ₹10 Is the basic amount required in the account to claim cashback.
rajabets cashback bonus Terms & Conditions
There are certain rules and regulations to be followed to claim this bonus.
The sole decision is in hands of the bookie.
Fraudulent accounts are cancelled and blocked.
The amount is credited into account for losses.
Request cashback button should click on cashback page to claim it.
₹200 losses are a must.
All bets must be cleared before claiming this offer.
The sports bonus amount should have a 1-time wager.
Void/Cancelled and free bets are not applicable to claim this offer.
No multiple accounts are allowed.
Maximum 7 days are given to complete the wagering requirement.
No deposit or deposit withdrawal before 24 hrs is allowed.
This bonus cannot be combined with the welcome bonus.
Our Inference on 10% instant cashback offer
The bookie offers multiple bonuses starting from daily to monthly. This offer falls under the daily bonus offer. It requires a minimum amount of ₹10 in the account. Two hundred rupees worth of losses is essential to claim this bonus. The transaction and privacy of customers are ensured making this app the most trustworthy and best.