CSKvsKXIP match 53 Dream11 IPL odds 01.11.2020
In CSKvsKXIP match, both teams has complete different points to prove. CSK is completely out of the Dream11 IPL 2020 and has been playing for their pride and for the fans. KXIP on the other side needs this win to stay in the race to be in the playoffs. Even this win couldn't guarantee their chances in playoffs as there are three more games between other teams who are also looking to qualify. KXIP journey will be coming to end if CSK win this match, let's go and check with betway sports the odds for the CSKvsKXIP match and also not to forget to check the betway bonus page for the welcome bonus offer if you are a new customer.

CSKvsKXIP match 53 odds 01.11.2020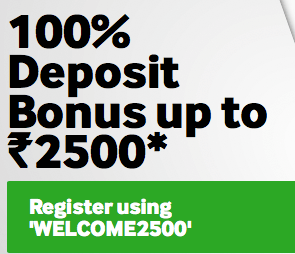 CSKvsKXIP will be followed by all the cricket betting fans, bookies and other IPL teams who has advantages with CSK winning the match. Half of the IPL teams would be backing CSK to win the match. The IPL 2020 is in its last part of the tournament and soon the playoffs will start and the final is on the 10.11.2020. The betting through this bookie can also be done through this app, the betway app is compatible for both ios and android customers. The betway app is also one of the trusted betting apps in India.
betway odds: CSKvsKXIP
Head to Head Stats CSKvsKXIP
Overall: 23
CSK: 13
KXIP: 10
Our Word: CSK wins the last match
CSK skipper MS Dhoni has mentioned in the post match conference that the remaining three matches he wants to win it for the pride and for fans. He wants his players to give 100% or whatever they can in the next three matches and that words has really created an impact and they really won the two matches and the final match is here already.
We assume CSK will win because they really don't have anything to lose. CSK team needs good performances once again from Imran Tahir, Deepak Chahar, Shardul Thakur, Jadeja, Ruturaj, Ambati Rayudu and MS Dhoni. MS Dhoni has not really been so much impactful with bat in this IPL 2020. All the CSK fans really wants to see their Thala perform one last time in the IPL 2020 for all his fans a 50 would be good to see from their Idol. If you are still in worry if MS Dhoni would play or lead the side or if this will be his last match for CSK, then the reply is "Definitely not" !