IPL13 betting tips CSKvsRR Match 37 19.10.2020
MS Dhoni vs Steve Smith it is, both teams have to win all their remaining matches with a good NRR too. Both teams flaws are clearly visible, one team couldn't do it with a young side and the other team has got too much lazy legs on the field. CSK has lost couple of matches with their own fault and team selection issues, RR has got the best balanced side and more quality team but couldn't capitalise on it. This article is about match 37 betting odds for CSKvsRR match, brought to you by betwinner sports. You can even bet on betwinner app for the ongoing Dream 11 IPL 2020 season, the app is compatible for both ios and android versions too.
betwinner bonus code 2020:  BIP130
CSKvsRR betting odds – IPL 2020
CSKvsRR it is the next game at Abu Dhabi, it has put forward some interesting matches and this upcoming match on Monday would bring in lots of exciting moments. It's going to be a high scoring game and will also be an intense one. As five of the teams from the last place in the points table has same stats and to qualify for the fourth slot, the teams has to give what all they got. Register with the bookmaker and enjoy betting, to do this follow our betwinner login page.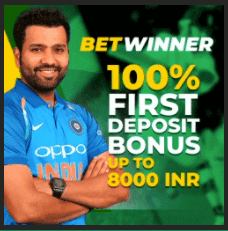 betwinner bonus code 2020:  BIP130
IPL Match 27 odds: CSKvsRR
Head to head Stats: match 27 CSKvsRR
Overall: 23
CSK: 14
RR: 9
Our Word: CSK should win
CSK should win, that should be their mantra, to keep their hopes alive for playoffs they have to win. CSK has a bad phase in IPL13, their consistent batsmen Suresh Raina, important bowler Harbhajan Singh has opt out to play this year IPL and then their allrounder Dwayne Bravo has been in and out with injuries and he is not so in good form with bat too. CSK has to come up with some important effort to keep their playoffs chances alive.
Our CSK team prediction is: MS Dhoni, Ambati Rayudu, Faf Du Plessis, Kedar Jadhav, Imran Tahir, Sam Curran, Deepak Chahar, Shardul Thakur, Piyush Chawla, R Jadeja, Mitchell Santner.
They have to leave out Shane Watson and try with other alternatives, with Shane Watson not bowling he is not really worth it just for his batting as he is very lazy and very dull in fielding too. They have to get use of Mitchell Santner and let Sam Curran open the innings or let Ambati Rayudu and Faf Du Plessis open Innings and Sam Curran comes and take over just like Suresh Raina.