cskvsdc match 7 IPL betting tips 25.09.2020
CSKvsDC is one match that whole cricket world will be waiting for this weekend. IPL match 7 will be exciting its a match between experts vs young talents. CSK has played two, won one and lost one, even the loss was a very intense match. So, with DC team it's quite different, they played one, they won it from a super over. This following article is about the cskvsdc match 7 IPL betting odds and 10Cric India odds for the game of Dream11 IPL 2020 on 25.09.2020.

Match 7 DcvsCsk 10cric odds 25.09.20
It's going to be a great start to this weekend, match 7 will be more interesting of all the games to begin off with over the weekend. MS Dhoni have a lot of questions to answer to his critics after his team's play in the last game. He needs to look at his bowler's strength and weakness in the review. Coming to the DC, the way their bowlers brought the game back is brilliant. Both teams will have a go against each other as they want to show some commendable performances. Coming to betting with 10Cric app, the app allows on betting for almost every match of the Dream 11 IPL 2020.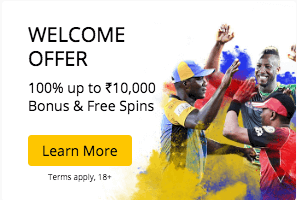 Note: Check this brilliant welcome bonus from the 10cric bonus for the new customers, The 10cric login gives new customers a 100% welcome bonus up to 10,000 INR.
10Cric odds – match 7 dcvscsk IPL 2020
Squad Prediction – Match 7 IPL 2020
CSK team prediction: Ms Dhoni, Shane Watson, Imran Tahir, Faf Du Plessis, Sam Curran, Ravindra Jadeja, Murali Vijay, Ruthuraj Gaikwad, Kedhar Jadhav, Deepak Chahar, Piyush Chawla.
DC team prediction: Prithvi Shaw, Rishabh Pant, Shimron Hetmyer, Shreyas Iyer, Marcus Stoinis, Shikhar Dhawan, Axar Patel, Ravichandran Ashwin, A Nortje, Kagiso Rabada, Mohit Sharma
Our Tip – CSK gets a win
CSK team is our winning horse, as the match will be count on experience. If Shane Watson and Faf du plessis can open, if the openers can cash in then its complete CSK launch for the positive of the tournament. All will be perfect with soon Ambati Rayudu joins the side, sources say he will  remain unavailable to play for this game against DC.
Hope he gets fit and plays, if he does he changes Murali Vijay to open along with Shane Watson like in 2019. It's high time Imran Tahir joins the squad. With quality spinners like piyush Chawla and Imran Tahir its a tight overs in the middle, Sam Curran and Deepak Chahar can finish at the end. Dwayne Bravo is someone of need of this hour for CSK but he is still getting match ready and not 100% as sources say.
Coming to DC, It's again a game of cards but its most relient on the reliant International players to prove their stamina and match brilliance on the field. Delhi Capitals is a team of complete youngsters who are oozing to prove their talent and get into the Indian team most of the players too have and are part fo the Indian squad. They are also looking to prove their worth in the squad. But this particular game, we can go with CSK as they have more experience by their side. MS Dhoni always have some magic to lift his side or turn the tide in his favour. Let's see how it goes, but from next game onwards CSK will be coming up with it's full strength.