Dafabet's 9.88% Davis cup cashback offer up to 6500 INR
Out of all online bookmakers operating in India, Dafabet is on a winning race. With it's continuous and constant cashback offer for its VIP players every week. This time they focused on the Davis cup and came up with a cashback offer. Though the cashback offer and the amount is similar to the other offers the constant push they give on different sports and extensive markets are to look out for. Dafabet players can earn up to 6500 INR every week.
Dafabet's 9.88% cashback offer
Dafabet India continuing its cashback offer for again a new sport and for a new tournament. One of the successful offers from the bookie is on a streak from some time now. dafabet VIP players are lucky to have this kind of offers weekly. the punters are in the race of having more than they wanted from a bookie and now they get an INR 6500 cashback offer every week for the Davis cup trophy. They offer different % for different category players. Let's go and check out everything about the bookie's latest offer for the Davis cup.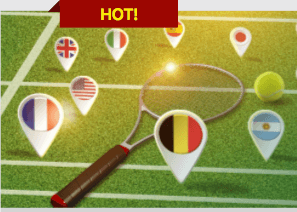 Fixtures
All matches of the Davis Cup tennis tournament.
Features
Validity – VIP players*
Percentage – 9.88%*
Period – Davis Cup 2019
Odds – 1.50 or higher
Rollover – 1x
The dafabet bonus India amount changes according to the player type which is mentioned in the below.
VIP Bronze – 7.88% – INR 3,200*
VIP Silver – 8.88% – INR 5000*
VIP Gold – 9.88% – INR 6,500*
VIP Platinum – 9.88% – INR 6,500*
Terms and Conditions
This promotion is valid for all VIP players of all categories. Offer is only valid for all the Davis cup matches. Both pre-match and live bets are qualifying bets. The odds must be at least 1.5 to be qualified, you need to rollover a minimum of 1x times. The user can have only one bonus offer at a given time. The other general promotions Terms and Conditions will apply though. The weekly refund will be issued every Mondays.
Conclusion
Dafabet's cashback offers spree continuous once more this time with the new tournament. They focus on the Davis cup matches and came up with some betting offers for its VIP players. The promo offer can be accessed through the dafabet app as well. As the cashback offer is already gained a huge appreciation the bookie is not going to let it go off anytime soon. Though the bookie always come up with offers also but still they constantly keep in check on different sports to widen this cashback offer range. The Davis cup cashback offer is in now for a huge run. Our expert team from a long time is in awe about this offer and hope the dafabet VIP players turn the odds to their favour always with this promotional offer.