DCvsKXIP Match 38 IPL betting odds 20.10.2020
It's already the Match 38 of the Dream 11 IPL 2020 played between DCvsKXIP on 20.10.2020 at Dubai. Don't miss this thriller of a match which starts at 19.30 IST, did you forget what KXIP has brought in with them in the last match against MI ? Two brilliant super over matches. What a sunday it was, 3 super overs in 2 games in one day. So, this article is about the betsson odds for the match 38 between Delhi Capitals vs Kings XI Punjab. betsson bonus is also here, for the IPL 2020, will update you some interesting bonus offer features in the below from the bookie.

DCvsKXIP match 38 IPL odds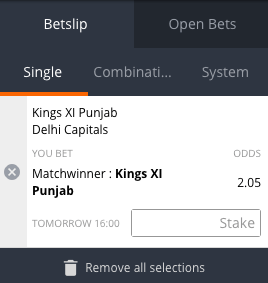 The points table is so good to see now, every team in the last of the points table has an equal and fair chance to be at play offs, the last 4 teams has to win each and every match with maintaining run rate. Whichsoever team does that with consistency and dominance shall win the place in the playoffs. The Match38 odds are from betsson, which has got a name for it among the sports betting sites in India. The bookie has also come up with a online betting app for both the ios and android app users, check out betsson app page.
Match 38 odds – DCvsKXIP
Head-to-Head stats: DCvsKXIP
Overall, DCvsKXIP played for 25 times and in which DC has won 11 times and KXIP 14 has won , Though the odds are in favor of Delhi Capitals, the head to head results are in favor of Kings XI Punjab. It's going to be a great game on Tuesday, as both teams had some consistent victories in their last couple of outings.
Our Word: KXIP in the race
To be in the race, Last 4 teams of the points table has to win each and every match and also with a good NRR. The next couple of weeks is going to be a worth of their choices for the bettors in India. Next 10-15 games will be a treat for the IPL and sports betting fans too. KXIP looks solid and has been in that frame to grab their opportunities with both the hands.
DC has got an amazing team and great heart, one of their player is somehow standing up to the occasion and delivering them with what the team needs to win the championship. This particular match 38 between KXIPvsDC will be a good game for both teams but we would like to go with momentum currently and its on KXIP side. With Chris Gayle into attack the team has good balance. What KXIP would need right now is Glenn Maxwell to be back in form and lead the finisher role with style and force.