Ekbet: Weekly Cashback up to 5.000 INR!
For the Indian sportsbetting market we have a real treat for you prepared. Ekbet is a save and reliable bookmaker for all your needs – especially cricket is big on this platform. So if you're into cricket or sports betting in general, it's gonna be your happy place. One of the main advantages are the slightly higher odds that are exclusive on this website. That's definitely a raise compared to the rest of the bookmakers in India. Obviously you need to register first and with that there's a top notch bonus system that we will explain later on. But first things first – the weekly cashback system is really one of a kind!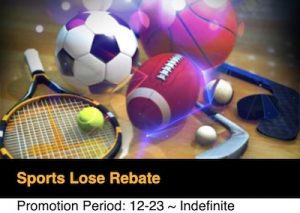 Reduce your potential losses!
Obviously nobody likes to lose, even though it's part of the game. If you have already registered an account, we recommend to download ek bet app for the best betting experience. As most people know: you can't win all the time but bankroll management is really important to get back on track. But ff you're having a rough week at cricket, a so called cashback system is definitely useful and that's exactly what differs ekbet from the rest of the pack.
Let's assume you lost INR 10.000 from Monday until Sunday – in that case you will receive a fixed 5 % cashback rate to cut your losses a little. The following Monday you will get back a whopping INR 500. The maximum amount you can get back through this system is INR 5.000. Obviously you have to gamble (and lose) quite a bit for that. Nonetheless it limits your losses and it's a reliable and good system. Let's have a look at the details:
Go to the ekbet promotion page, select the cashback bonus and click on apply
You can only use the cashback on sports betting
Your account needs to be verified and registered
The cashback amount needs to be rolled over at least once before it's back to real money
This is a nice betting bonus – guaranteed. So if you're looking for a flawless sports betting company with a good bonus system, you're right on the money. To apply for this bonus you obviously need to have an active account with ekbet. You can either log into your already existing acccount or register a new one, if you haven't done it until now.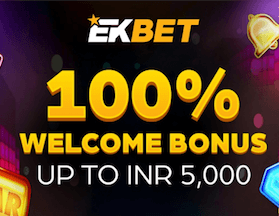 Fresh new start at ekbet!
Let's get straight to the point. A cashback system is a good option for cutting your potential losses but obviously you want to win and therefore a good bankroll is needed, to place all the right cricket, football or whatever sport you're into bets. A very good opportunity is the ekbet bonus for newly acquired customers.
First of all, you will receive double the amount of your deposit for your registration. The bare minimum is INR 300 for that. Obviously it's more lucrative, if you decide to step into the arena with a higher deposit to maximize the bonus amount. In the end it's gonna be more helpful to do it like that. The maximum deposit amount for the maximum bonus amount equals INR 5.000. Independently from the deposit amount you need to roll it over at least 8 times with a minimum odd of 1.75. Your account needs to be verified up front and if you fulfil those rules – we wish you nothing but the best with your new favorite bookmaker!