engvspak 2nd test fezbet match odds 13.08.2020
Pakistan tour of England is the most happening cricket event right now. England almost had a defeat in the 1st test, Pakistan had been on the upper hand with a lead after 1st innings but went down like a dominos in the 2nd Innings. This below article is about the fezbet sports odds for the 2nd test match between England Pakistan happens on 13th-17th August 2020. The fezbet bookie is here with pre-match bets for the upcoming game already.
Pakistan might win the 2nd test match odds
Pakistan might win the 2nd test match, we are going against the odds favor of the fezbet bookmaker. The fezbet app is also here for the upcoming test match and the bookie has come up with the pre-match betting odds. Not only the outright winner the bookie has almost 10 pre-match bets. fezbet live score is also available for the in-play option. The fezbet offers a welcome bonus which is one of the best betting offers among the online bookmakers.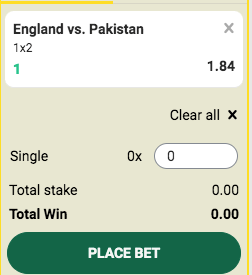 Head-to-Head Stats – pakvseng test series.
Out of all the 26 series so far, England won 9, drawn were 9 and Pakistan won 8. So, whenever the both teams faced each other, they both have been very competitive and has won almost equal and had been very good with their bowling unit. In the ongoing series too, both teams were really competitive, even after winning more sessions than England, Pakistan had to face a defeat just because of One partnership between Jos Butler and Chris Woakes. They both batted for a session and changed the course of the game. How crucial is determination and intent to perform in Cricket and in test especially.
Note: fezbet app info is available in our app review page, where we mention detailed info on the bookie app services. Do check it once.
Our Word – Pakistan Will win the 2nd test match
We predict Pakistan to win the 2nd test match given the performances in the 1st match and also the team for the 2nd test. We hope pakistan could bring a series leveller performance for the 2nd test match which is going to start on 13th August. If Pakistan can make sure they come up with the same performance from their bowlers and lack of ben stokes for England side would add in as a favor for Pakistan to level the series. Provided Pakistan batsman should come up with big hundreds and should play for longer time.