Australia vs India 1st ODI match odds 27.11.2020
The IPL13 is over, once again the retaining champions are the winners, MI won the IPL 2020. Now we are back to unity, Indian team is back but with a much younger and fitter squad this time. India tour down under, India's tour of Australia it is and as everyone the 1xbet bookie is also here. The bookie has come up with odds for the 1st ODI match between IndvsAus on 27.11.2020. Let's go and check the odds from the bookmaker for the ODI series right from the 1st match.

1st ODI IndvsAus odds 27.11.2020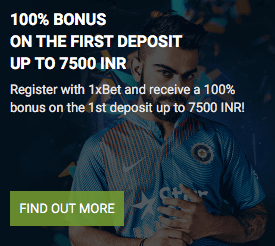 Back to ODI cricket after a very long gap, The men in blue are back to get what they are known for. This time the squad looks fitter, in form and much younger compared to previous teams. This is a high time for Virat Kohli led Indian team to get what they want. Can India Win as a white wash ? The only player with not so great form is their skipper virat kohli, but all he would need is a banter on the field and he turns it on into fuel, that's why he is called as Run Machine. 1xbet app is also here to make your day, now you can bet with the help of this online betting app which tends to be one of the best bookies in India.
1xbet odds: 1st ODI IndvsAus
India: 1.90
Australia: 1.80
Head to Head Stats: IndiavsAustralia
Total: 145
India: 52
Australia: 78
NR: 15
Our Word: India wins the match
Yes, the odds are against India, the head to head results are also against them too. The good thing the current Indian team has is the bonding between the players, the inform players strength, everyone is having match practice and most of the guys do know their role. Yes it's a new team but sure all of them do have the experience to be there. We are gearing up for Indian team to do wonders.
Australian team is no less and has equal chance too, but given that some players don't have the match experience since many months it will be hard for them to perform right away. Current Indian bowling attack seems good to, last couple of years Indian seamers standards improved and the quality of the Indian Pacers are second to none. With Mohammed Shami, Jasprit Bumrah and now T.Natarajan joining the side. We hope it will be a great sight to see the three Yorker specialists under one roof.
Coming to batting we have the likes of the great Virat Kohli, Shikhar Dhawan, KL Rahul, Manish Pandey etc. Who clearly had experience and the power to steer the team through run chase or set up the runs. We are hoping Indian team would lead their way with a win and start their tour of Australia on a winning note.