KKRvsDC Match 42 IPL T20 odds 24.10.2020
DCvsKKR will be a challenge for both teams but on different level. One fights to stay in the league and the other to confirm their place in the playoffs. The IPL odds in this article is about the match 42 of the Dream 11 IPL 2020 and the match odds are from the dafabet sports. Let's go and check the odds, head-to-head stats and if any promotional offers from the bookmaker.
KKRvsDC IPL odds 24.10.2020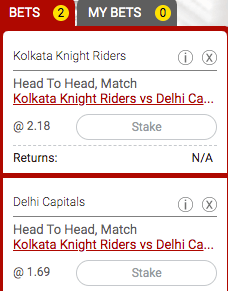 The Dream 11 IPL 2020 is already a big hit among the T20 Cricket leagues this year and in general its one of the best IPL so far. The dafabet bonus is also here for the new customers if you want to start betting on the IPL matches. The KKRvsDC match odds from the bookie is mentioned in the below.
We want you to check the dafabet app too through which you can do the bookie registration and even play with app. The odds looks in favour of DC, as they are the team more consistent with overall performance. DC is one team where we cant predict if their bowling or batting is stronger.
KKRvsDC odds: Match 42
Head to Head Stats: DCvsKKR
Overall: 24
DC: 11
KKR: 13
Our Word:  DC confirms playoff place
DC if wins can confirm their place in the playoffs and the KKR if wins would still be in the race of the playoffs. If they lose then they will be mostly out of the Dream 11 IPL 2020. This has been a strange year where consistent teams like CSK, KKR and SRH suffering to continue in the league because of the unforeseen conditions and out of form players along with injuries.
KKR has problems with Andre Russell and out of form players, KKR has been having a problem with opening position and couldn't figure it out yet. DC has to look for a replacement for this match.
DC team prediction for the match 41 is Shikhar Dhawan, Shimron Hetmyer, Shreyas Iyer, Rishabh Pant, Ajinkya Rahane, K Rabada, A Nortje, A Patel, H Patel, R Ashwin, Marcus Stoinis.
DC has to experiment with the opening slot, Shikhar Dhawan ad Shimron Hetmyer opening the innings would be good for them to add in more runs in powerplay. Prithvi Shaw looks completely out of form, hope he clicks in this match but if not DC has to take a gamble then, Even with Dhawan excellent form and a hundred, DC has to lose in the last match.