KKRvsKXIP Match 24 IPL odds 10.10.2020
KKRvsKXIP it is the match 24 of the Dream 11 IPL 2020. The match happens on 10.10.2020, by the way, it's the 1st match on the Saturday. The second match is between the cskvsrcb, this weekend is going to be exciting, 5 matches in 3 days. What more does a sports betting India fans want from the cricket world. betwinner sports has come up with betting odds for the same and has some interesting welcome betting offers too which offers a 8000 INR for the new customers. Let's go and check the IPL odds for the Match 24 on 10.10.2020.

Match 24 KKRvsKXIP betwinner IPL odds
The IPL 13 is the most exciting of all the IPL's so far, we have witnessed the best catch of the IPL already with Nicholas Pooran not only that he is in terrific form with 50 from 16 balls against SRH. The only thing with KXIP is they need to try with Chris Gayle and let him free, If Gayle sets up then KXIP will have a good consistency with batting. KKR has won it from almost defeat against CSK. Beating CSK with 10runs is a great effort and it might give a boost to the team. There has been a Controversy against Dinesh karthik and his Captaincy decisions, we hope with consistent performances he should keep his critics aside or lose the captaincy to Eoin Morgan. Our expert idea would be Eoin Morgan to lead the side as he is much experienced compared to Dinesh Karthik.
Note: Check out betwinner app features and compare them in our online betting apps in India page with other bookie apps in India.
Betwinner odds – Match 24 KKR vs KXIP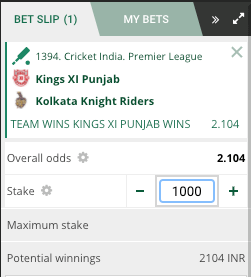 Head to Head stats: KKRvsKXIP
Overall: 25 matches
KKR won: 17
KXIP won: 8
Our Word: KKR will add one more win
KKR looks like its going to add one more lead against KXIP. Their head to head stats are shocking as the KKR won more than double games than KXIP. KXIP for 2020 has a wonderful squad compared to KKR but their Skipper KL Rahul has been not able to use the resources properly. Omitting Chris Gayle has been costing him clearly, giving due credit and chances to the National players is always a plus but a skipper has to make sure he uses the proper resources at optimum level. Look at Rohit Sharma and Shreyas Iyer they has been very exceptional this IPL 2020. Even KKR is not able to use their players properly, Tom Banton should be in their side and they have to let go Sunil Narine.
Just because of one or two seasons he played good at Opening doesn't really mean its a good strategy, Tom banton is a T20 specialist opening batsman. when you know that your team has been lacking good opening performances then you need to back your specialist opening batsman. We hope Dinesh Karthik analyse his squad pros and cons comes with a good squad. Always a Specialist batsman or bowler is perfect than a Allrounder who is not good at both or in prime form. Sunil Narine is past his prime and has not been effective with ball too because of his batting concentrations. KXIP has more cons compared to KKR so we would like to go in favor of the bookie odds.