KXIPvsSRH IPL 2020 tips 24.10.2020
This article is about the royal panda odds for the match 43 of the Dream 11 IPL 2020. The upcoming odds are for the KXIPvsSRH match on Saturday, it's going to be the second match of the day and let's go and check if the bookmaker has any special betting offers for the match 43 of the IPL T20 on 24.10.2020. KXIPvsSRH would strive to win this one to stay in the playoffs race one of the winning team would rank into the top 4 of the table.
KXIPvsSRH match 43 odds 24.10.20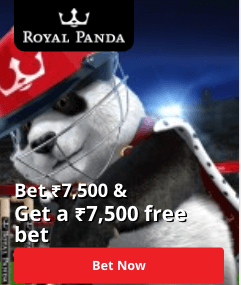 KXIP and SRH both had good outings in the last couple of matches. it's going to be a tough match when both teams have everything to go against and when both teams are in a situation to win the place. Kl Rahul and David Warner would want to come with all sort of tactics to take their team home.
KXIP has the odds in favor from the royal panda bookie. To do the royal panda registration all you need to do is to be 18 years or above and complete the KYC process. You will also get the free bet through the royal panda bonus which is an excellent offer.
Head to Head stats: KXIPvsSRH
Overall: 15
SRH: 11
KXIP: 4
Royal Panda match 43 odds
Our Word: SRH wins
As we said both teams have a goal and also the process looks good. Still, SRH has a very good reason to win this one, considering the bowling strength of the SRH if Rashid Khan gets in the zone then it will be very hard for KXIP to get going in the middle overs. The pitches are becoming slower match by match and also there is a point of dew in the evening matches and it's benefit for the team batting second. SRH has to do the batting second to win the match.
SRH team prediction: David Warner, J Bairstow, Manish Pandey, Vijay Shankar, Rashid Khan, Jason Holder, Abdul Samad, Abhishek Sharma, Sandeep Sharma, T Natarajan, Priyam Garg
SRH if can come out with this kind of Playing XI would benefit the team and then the players too will have a confidence that their performances are being considered. David Warner has to come in with three spinners and lucky thing for him would be both Abhishek Sharma and Abdul Samad can bowl good and are a terrific batsmen too. If SRH wins this one they will enter the top 4 slot in the points table. Lack of Bhuvneshwar Kumar is surely costing them couple of matches in the start but now they have maintained the consistency and out performing the opponents.