MIvsKXIP Match 13 IPL betting odds 01.10.2020
MIvsKXIP will be the most exciting match of the Dream11 IPL 2020 so far, it might be the most viewed too. As KXIP and MI both have been so consistent and so good with batting. It's a fight between KL Rahul vs Rohit Sharma, who will hit more runs too. Things get interesting when both teams face off against each other on 01.10.2020 at Sheikh Zayed Stadium, Abu Dhabi for the Match 13 of the Dream 11 IPL 2020. 18bet odds are here in this article for the match 13 of IPL between MIvsKXIP. 18bet sports are one of the exciting bookies operating among the sports betting sites in India. Let's go and check the odds for the upcoming match between KXIPvsMI.

Match 13 Dream 11 IPL – 18bet odds 01.10.2020
Math 13 it is already, the IPL days are going so fast isn't it? Still, as Virender Sehwag tweeted Dream 11 IPL is the best thing to happen in 2020. 18bet login page, brings you the bookie one step closer with explaining you how to register with the bookmaker and also the methods of registration. Don't miss to check the 18bet app, the app is available and compatible for both ios and android versions though 18bet apk is quite popular among the Indian bettors.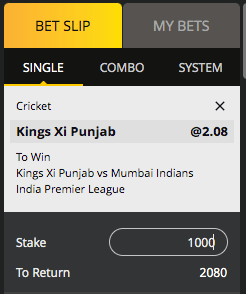 18bet odds – KXIPvsMI match 13
Other than this match winner event, 18bet bookie has 12 more pre-match betting events, keep checking our bookmakers section to compare how the bookie is performing among the best bookies in India.
Head-to-Head stats: MIvsKXIP
Overall – 24
MI: 13
KXIP: 11
Our Tip: KXIP takes lead again
KXIP will come out as winner, they have been in prime form except the last match. Even in the game against RR it was unexpected loss for the KXIP. The team surely looks good and they will bounce back as most of the players are used to these situations and have consistent performers by their side. MI too is brilliant but the problem would be is lack of quality allrounders, Hardik and Krunal needs to come into form yet.
MI lost their last match but yet has the confidence to bounce back. The MI Skipper Rohit Sharma needs to tick lot of questions, from opening stand to finishers batting performances. Coming to the bowling, lack of Lasith Malinga impact is still visible. The Mumbai Indians needs to stabilise their boat yet just like other teams. This Dream 11 IPL 2020, the IPL 13th season surely turned the stats up side down as teams like DC, RR and KXIP has been so consistent with their performances as of now. Good Luck to both teams and we are waiting for the most exciting match of the Dream 11 IPL 2020 so far.