Bangalore vs Chennai IPL T20 Match35 Best Odds
The most awaited match between Royal Challengers Bangalore and Chennai Super Kings is on 24th September 2021. It is on the grounds of Sharjah at 7:30 PM IST. The cricket lovers go crazy during this match as they see it as M S Dhoni against Virat Kohli. It is one of the most exciting matches in the IPL season.
RCB Vs CSK – Match 35 – IPL 2021 odds

Teams 
CSK
1.70
1.90
RCB
2.12
2.30
Interested bettors can bet on bons sports. The bookie gives live updates and also provides a live betting platform. It promotes responsible betting and ensures privacy.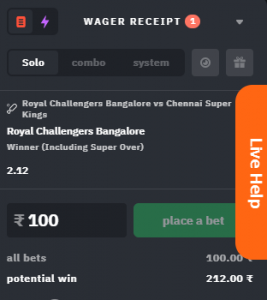 Claim up to 200% on your first deposit by using the bons bonus code. It is the youngest and one of the best bookmakers in India. It has a wide range of betting events. The sportsbook is available in the form of an app and is very convenient. Language selection is also available.
RCB vs CSK Match Betting tips
Both teams are on fire this season. RCB has been playing exceptionally and is in 3rd position on the points table. It has 5 wins out of 8 matches. CSK is in the number one position with 6 wins out of 8 matches.
Chennai won the last match against Bangalore by 69 runs. The score was 191/4. Batters were amazing and also the field management by Dhoni was very tight as ever. Sir Jadeja was the player in the match. His all-rounder performance left the audience high. He scored 62 runs out of 28 balls and bowling was 3/13.
Do rabona login and get the best odds of the match. It is a beginner-friendly platform with the biggest selection of events. It has a live streaming feature that attracts IPL lovers.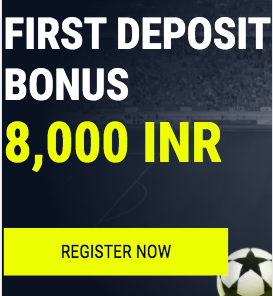 Download the rabona app and claim the first deposit bonus. Indian bettors have a wide range of platforms to deposit their amount, starting from UPIs to net banking.
Faf du Plessis was brilliant and scored a half-century. Ruthuraj and Raina were stable and supported the team with their innings. Dhoni's batting order strategy was what helped the team win. Imran Tahir bagged 2 wickets. Curran and Thakur took down each wicket restricting the score of RCB to 122 runs.
RCB was exceptional this season. They are providing a feast to their fans through a thorough play. This match however was disappointing. Devdutt Padikkal and Glenn Maxwell were stable and were responsible for the team to at least cross 100 runs. Harshpatel was okay and took down 3 wickets of Chennai by giving 51 runs.
Our Word: CSK wins the match against RCB
CSK is one of the most fancied teams in IPL. There are die-hard for not just for the team but for every player. This season had been lucky for them and are currently on the top.
Dhoni would be playing to maintain their position and would strategize the batting order. Raina, Ruthraj, Rayudu would provide stability to the team. The skipper, Jadeja, and Faf du Plessis can elevate the score through their smashes.
The bowling team is also in form and has been delivering a supportive performance. Curran, Jadeja, Tahir, and Bravo can turn the game in favour of the team. There is an 85% chance that CSK wins the match.