Dream 11 IPL 13 betting tips KXIPvsRCB 15.10.2020
What's your take on IPL13 so far? what a tournament it turned out to be. The top bookies in India having a great time, the year 2020 was not exciting before the start of the IPL as there were no matches for almost 6months but now the story is completely different and most of the bookmakers has been raking in stakes. One of such bookie is dafabet sports, this asian bookmaker has been coming up with always an interesting betting events, now they have the IPL odds for the upcoming match 31 on 15.10.2020 between the Kings XI Punjab vs Royal Challengers Bangalore.

KXIPvsRCB IPL 2020 match odds 15.10.20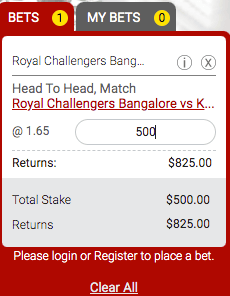 KXIPvsRCB is one of the best rivalries, KL Rahul vs Virat Kohli, Two youngsters who have come from the same base. Both have played for RCB and has improved in their career so much that both now face off against each other. It might be a great game when KL Rahul and Chris Gayle take on Virat Kohli and De Villiers. It might be a good game for Chris Gayle to make a comeback to the KXIP side. KXIP needs a good win to get the IPL journey going for them. Check out our dafabet app to do betting with the ios or android app too on the Dream 11 IPL 2020. For our readers to be easy to register with the bookie we have the dafabet login page, we want our players to be match ready and also the bookie offers a very exciting welcome bonus offer too.
Dafabet odds: KXIPvsRCB
head to head stats: Match 31 RCBvsKXIP
Overall: 24
RCB: 12
KXIP: 12
Our Word: RCB looks set
The greatest challenge for RCB might be the KXIP match. Though the head to head matches are equal on both sides. In the last 5 matches when they both played KXIP won all the matches and has been on the winning side. Current scenario is that KXIP team batting looks set but the team cannot win the crucial moments and are loosing matches. The bowling department needs to sort out, the problem with KXIP is that they have too many allrounders by their side and KL Rahul is unsure of which resource to choose.
KXIP has been left with too many options, the captaincy pressure is clearly visible on field, it might not affected his batting but for sure his Captaincy tactics are very confusing. RCB looks stiff and are goal oriented, they are in race to win their first ever IPL. RCB might be the first team who have come out their selection struggles and has been consistent right then, with Virat Kohli and Ab de Villiers in form its really very interesting to see this RCB journey in the IPL 2020.