SRHvsDC Match 47 betting events 27.10.2020
SRHvsDC match is between two team who has something at stake and also two teams who to come in with consistent performance. The next 3 matches should be very consistent for both the teams, sportsbet.io odds are here for match 47 of the Dream 11 IPL 2020. The sportsbet.io app is here for both the ios and android users for betting on match 47 of the Dream 11 IPL 2020 match between SRHvsDC. Let's go and check the head to head stats between Sunrisers Hyderabad vs Delhi capitals and also the sportsbet.io odds for the match 47 of the Dream 11 IPL 2020.

SRHvsDC match 47 odds 27.10.20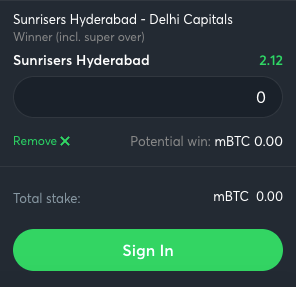 Match 47 of the Dream11 IPL 2020 is between Delhi Capitals vs Sunrisers Hyderabad. Sportsbet.io bonus offers has some interesting promotional offers for the Dream11 IPL 2020. Check out how the sportsbet.io app is faring among all the online betting apps in India. SRHvsDC surely will be one of the highest betted matches in the recent IPL's. Let's go and check the odds from the sportsbet.io bookie for the match 47 of the IPL13.
Match 47 odds: SRHvsDC
Head to Head Matches : SRHvsDC
Overall: 16
SRH: 10
DC: 6
Our Word: SRH wins this one
It's a tricky one, the sportsbet.io odds are in favor of the Delhi Capitals and the Head to Head results are completely favoring the Sunrisers Hyderabad team. Lack of Bhuvneshwar Kumar is clearly affecting the team balance. T. Natarajan is a great find though, the other reason that's been effecting SRH is the lack of death batsmen in their team.
Someone like Manish Pandey who has immense IPL experience should stand up no matter 10 out of 14 games if he has to, he has to. For Sunrisers Hyderabad there has to be someone who can be there as a pillar at the last. The last game they lost was completely pack of cards performance.
SRH needs to find their balance this got to be their last chance at the playoffs race. Already CSK and RR has almost done out of race. KXIP has been the real game changer, they have won 5 out of 5 of their last matches, Chris Gayle factor has been resonating in their performances.
SRH needs their openers J bairstow and David Warner to really step up for this game. The Sunrisers fans also want to see some fire in their openers batsmen which has been completely missing in this IPL13. The lack of form in Bairstow batting is clearly visible. SRH needs to look for an alternative and come up with a chance. Why not try virat singh?