Windaddy is one of our newest and most promising bookmakers. Although windaddy does not belong to the best bookies in India yet, you might want to give it a try. The newcomer offers not just a really warm welcome gift for newcomers, but also a well designed and reliable mobile sports betting App for your smartphone. Mobile betting was never easier. We will give you an honest heads up about the new windaddy apk for Android und Apple iOS app.
Secure, reliable und reputable mobile betting – you name it – windaddy offers it. Funded in 2020 windaddy surly belongs to our section of new bookmakers in India. Nevertheless windaddy made significant progress over the last two years, involving the development of a brand now mobile sports betting app for all devices. There is a special app for apple iOS smartphones, one for Android cells and also a mobile app you can use via your own browser – without the need to download anything. Here, we will show you where an how to start the windaddy app download and what to expect, once you are ready to go.
Windaddy Apk & App Download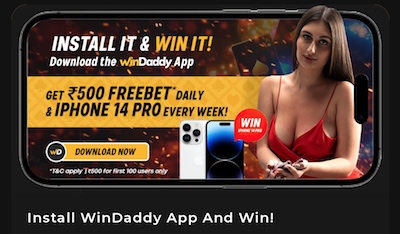 Due to the current "install it & win it" special offer, we recommend to follow the three steps described below. Here you can win 500 rupees every day an an iphone 14 pro every week. all you have to do is to apply for this promotion before you download and instal the windaddy app. This offer lasts until 31st December 2022. So let's not waste time! This is how to get going:
Visit the windaddy homepage and login or register
Apply for the "install it & win it" promotion
Download the windaddy app or apk onto your mobile device
sign in to your account and start playing
If you don't have your own account yet, you can easily register without costs by tapping onto one of our links above and below. New costumers are also looking forward to enjoying the current 100% up to 11,000 rupees windaddy bonus as a welcoming gift. Btw, if you already have an account and might be looking for a different brand then we advise you to download the ekbet App as this is one of the best bookies in India.
How to install Windaddy Apk Android & iOS App
Wether you decided to apply for the "install it & win it" promotion or not, once you're ready you will want to make life and sports betting easier by downloading the app and using your smartphone as your mobile bookmaker. Apple users will find the app directly downloadable in the apple app store. Android users will have to download the windaddy apk from windaddy's homepage.
1. For Android Download go to Windaddy Homepage 
Use your smartphone browser to visit the windaddy homepage. There you will find all the current offers, specials as well as the regular sportsbook. Along that you can download the windaddy apk for android smartphones directly from the homepage. You will find the windaddy apk download button under >> windaddy.com/download-app <<
2. Tap to download the app
Before you can install the brand new windaddy app, you will have to download it onto your mobile device by tapping the download button.
3. Allow external applications on your smartphone
In the final step, after the app download is completed, you will have to allow the installation of external applications in the settings of your smartphone. Now you are ready to finalize your installation. And don't worry, as said before, windaddy is a reliable and secure sports betting partner, who will handle your personal data with care and a maximum level of security.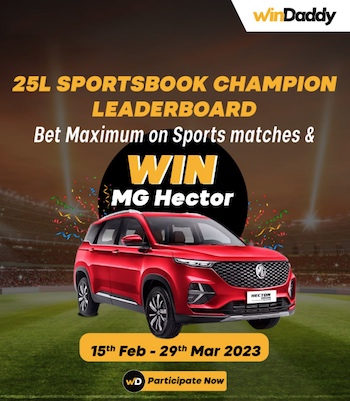 Windaddy Mobile App Conclusion
Windaddy delivers a fresh, easy-to-use mobile app for any smartphones and devices. We experienced fluent handling without any bad surprises. You can deposit and withdraw money easily via your new windaddy app. Therefore there are several modern payment methods awaiting you (i.e. Skrill, Visa, MasterCard, Bank Wire Transfer as well as Neteller). For more information take a look at our windaddy review (coming soon).
FAQ - Winadaddy app & apk download
Where to find windaddy app download?
Apple users find the windaddy app in the official app store. Android users will have to download the windaddy apk directly from the homepage. Remember to allow the installation from external sources in your settings.
Windaddy Mobile app safe & reliable?
No need to hesitate. Windaddy is a secure and reliable bookie offering a totally up to standard application for any devices. The app is working fluently without any interruptions during our test.
How to withdraw money with windaddy app?
Wether you want do deposit or withdraw money from you account, the windaddy app gives you full control over your finances. Payouts are always free of charge. There are several modern methods available (i.e. Skrill, Visa, MasterCard, Bank Wire Transfer as well as Neteller).