Boost your cricket price by Sportsbet.io
Sri Lanka tour of India is getting very exciting. The fans have come in huge numbers on Sunday to show their support. Much to their bad luck, the match got abandoned before a ball being bowled because of rain and wet pitch. So, the impact has just got double for the 2nd T20I between India v Sri Lanka on 7th January 2020. Sportsbet.io Bookie has come with boost your cricket price for the odds in favour of the winner category. Let's go and check in the below what has Sportsbet.io India got to offer for the upcoming T20I match.
Boost your Cricket price by sportsbet.io
Sportsbet.io bookie came up with boost your cricket price just before the match starts in a couple of hours. It made the punters exciting for an already most anticipated match of the month. India vs Sri Lanka match has never been this much anticipated by the fans and the punters in the recent past. With a completely new team, Sri Lanka has been the underdogs for this tour. Whereas India is completely on their strong points just want to cross a few blocks for the T20 World cup preparation. Sportsbet.io never back down to surprise their punters. You can know more about this bookie login via sportsbet.io login page.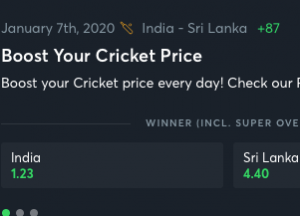 Analysis
Sportsbet.io has increased the odds, not in favour of any team. But the odds favour your pre-match bets, you get a odds to boost for your pre-match bets. You get +87 decimals of odds in your favour, so you can get more than what you expect. It's really a good offer from one of the online bookmakers, to keep their punters engaging. Though the odds are now in favour of India, it won't take too much time to change in favour of the visitors. We hope the punters make use of this offer.
Fixtures
Winner of the 2nd T20I in the Sri Lanka tour of India (+87)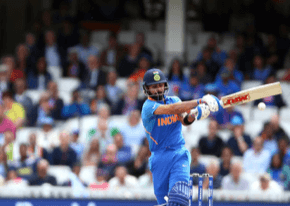 India – 1.23
SriLanka – 4.4
Our Word
Our expert team at betting-India.pro is always in support of the odds boost offer. The boost your cricket price offer is one such betting offers which give an equal advantage for the punter as well the bookie in broadway. Sportsbet.io has been on the rise since recent times to turn their odds into favour with amazing offers and promotions. We already applauded for venturing with an app. The bookie has been showing some sincere effort to capture the world sports betting market likewise in India too. We welcome more such offers from the bookie and we wish the punters can make use of this boost your cricket price offer from this bookie.