Dafabet frequency bonus up to 18000 INR
Dafabet is once again back with an interesting bonus, the frequency bonus offer. This time they further improved the offer and have come up with a frequency bonus offer up to 18000 INR from turn over challenge. Dafabet sports always tends to come up with interesting and attractive offers for its customers to keep engaged. So, let's go and check out frequency offer validity, terms and conditions.

Check Dafabet frequency bonus offer
Dafabet India has improvised its very own frequency bonus offer. Now you can get an offer up to 18000INR with your turn over challenge. There are different levels and you would be rewarded according to the level you reach. Let's find out the offer validity, offer terms and conditions. You are also eligible for the offer with dafabet mobile app.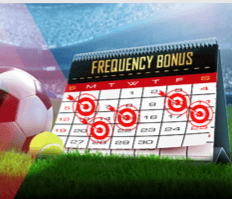 How does the offer work?
A player will have a target to deposit and also a turnover to reach every month.
This bonus will be automatically be issued to players if he hits the target at any level.
once the player reaches the conditions of the target deposit and turn over for 2,3,6,9 and 12 consecutive months, then the player be awarded a frequency free bet automatically
Monthly Targets

Level
Net Dep
Sports To
Level  1
INR 7000
INR 20000
Level 2
INR 15500
INR 40000
Level 3
INR 23000
INR 60000
Frequency Bonuses

Duration
Level 1
Level 2
Level 3
2 mos
INR 650
INR 950
INR 1500
3 mos
INR 950
INR 1500
INR 2000
6 mos
INR 1500
INR 2000
INR 3000
9 mos
INR 2000
INR 3000
INR 5000
12 mos
INR 3000
INR 5000
INR 6500
Terms and conditions
Dafabet players are only allowed for this promotion.
Odds should be 1.50 or above to be considered for this promotion.
Players have to hit the target deposit and turnover in consecutive months in order to be qualified for the dafabet bonus India offer.
The bonus will be issued on basing which level's the player reaches.
Both live and pre-match bets are allowed for this offer.
You need to roll over 1x times the bonus amount at the specified odds to be able to withdraw.
This promotional offer is limited to one time only redemption per person.
The bonuses of qualified players shall automatically be issued to their sports accounts every 2nd Tuesday of the month.
Our Word
Dafabet frequency bonus offer gives players a chance to get up to 18000INR. It has improved their frequency bonus offer. You can get a higher bonus depending on your activity with three different levels to aim for the players.  Dafabet India always will be there to come with a new offer now and then. It's good to see a frequency offer of such kind for the players to gain for a long term. The betting bonus offer is almost there for a year to be gained. We hope the dafabet bookie comes up with more of this offers and soon would like to see them in a competitive position.