Betway BMB ₹1,000 free bet offer
Betway's BMB offer is a revelation in both the weekly promotional betting offers and also in free bets offers. So, they have come again with the Boundary money back offer to attract its customers. This time they increased the fixtures to three matches, with the new MSL league included along with the India vs Bangladesh T20I. The offer is valid for three days and the odds and other terms and conditions are almost the same as the other offer. So to be sure our expert team at betting-india.pro, will anyhow go and find out if the bookie has come up with any other T&C different from the last one.

Money-Back as a Free bet if the last ball is a Boundary
After an exciting craze for the BMB offers, Betway again came up with their unique free bet offer for India vs Bangladesh T20I match and also the south African MSL tournament's two matches. One free bet is allowed per match. the first bet is eligible for the offer, if your first bet wins, you will not be eligible for a refund. But if you lose your bet and if the last ball of the match is a boundary then you will get a refund matched to your stake up to ₹1000.  This free bet offer from the bookie is one of the betting bonus or promotional offer in 2019. Please always make sure you are up to date with betway app to keep yourself up to date with betway sports info and promotional offers.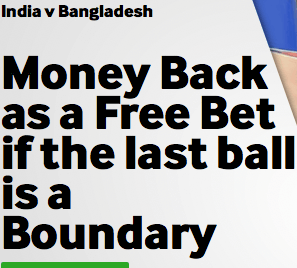 Important Information
Eligible matches: November 7th – November 9th 2019
Maximum amount- ₹1000
Free bets – 1
Odds – 1.50 or higher
Promo code: 186026 valid till 2nd December 2019*.
Expiry: 7days
Eligible Fixtures
Thursday 7th November – India vs Bangladesh – 2nd T20
Friday 8th November – Jozi Stars v Cape Town Blitz – MSL
Saturday 9th November – Durban Heat v Tshwane Spartans – MSL
BMB offer terms and conditions
The betway sports bonus offer i.e. the boundary money back special promotion offer applies to single, In-play and pre-game bets on the mentioned cricket matches above. The offer is valid only when placed on odds of at least 1.50 or higher but all stake amounts are eligible. One free bet is allowed per user. The offer cannot be used in conjunction with any other betting bonus offers on these events, free bets are not eligible. The refund will be credited within 24hours to the free bets tab. The offer is valid until Thursday 7th November 2019 to Sunday 9th November 2019. we have a latest addition to the Betway reviews that is the Betway login page, which takes you to the in depth analysis of the betway signup process in India.
Conclusion
Betway decided to make use of their crazy free bet cum bonus offer to another level. This time they came up with the same concept but for three matches straight. The betway punters can make a real deal out of this offer, because though they get to bet on only one bet per match, but still, they can make use of the other two matches as well. The offer is per match, so the punters can start trying their luck. If you win your bet, you are lucky so you don't have to think about the free bet offer. But if you lose your bet and ran out of luck, betway is always there to be in support of you. So, they will be giving you a free bet matched to your stake up to 1000 INR. It's never late to try your luck especially when there is very less chance of losing your money with this support from Betway bookie. Our expert team would like the betway users and other users to go ahead and register if not done yet and start trying their luck!