West Indies vs India 3rd ODI Betting Odds Comparison 27.07.22
The first and second ODI match between India and West Indies has left the cricket lovers startled with Team India's excellent performance. The final 3rd ODI match is going to happen on the 27th of July at 07:00 PM, Indian Standard Time. The match is going to happen at the same stadium just like the other matches which is at the Queen's Park Oval stadium, Trinidad.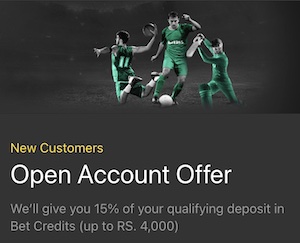 If you are betting enthusiast, then it is the right opportunity to place the bets on your favorite team using the best betting sites in India. We have chosen three bookies and their respective odds on this exciting match which are bet365, betway and betwinner.
West Indies vs India 3rd ODI Betting Odds
Both the teams are providing and presenting their best ever skills from the last two matches and its an appreciating performance from West Indies and India. These bookies not only honor the sports betting events but also encourage the players with excellent promotions. To obtain information about the same, have a look at our sports bonus page.
If you would like to place the bets on your favorite team, then it is important to choose the right bookie that offers the highest odds. The below mentioned table explains the said bookmakers along with the odds.
West Indies Vs India

Tips
WI
3.00
3.20
3.20
IND
1.32
1.34
1.36
Looking at the table, we can see that Bet365 tops the table with higher odds for both India and West Indies, and if you would like to continue with placing the bets, then look no further. Choose Bet365 as your preferred betting sites to build your bets. If you are a mobile user, then you can download the bet365 app either from the App store or Play Store. The betting app is user friendly and facilitates an easy to bet atmosphere. All the betting events, promotions and other features can be accessed from the app itself.
West Indies vs India match prediction
In the comparison of the teams and their previous two matches, they have equal balance in performance whilst playing till the last ball of the match, but this time West Indies gets a little chance of winning this match due to their excellent performance in the second match against India.
West Indies need to come towards the winning zone at least in this third ODI match to escape from the clean sweep, they need to restrict India under 250 to win this match. To know more about the bookmaker and their features, have a look at our bet365 review page.