Adelaide Strikers vs Renegades odds comparison 24.01.23
The 54th match of the Big bash league is going to take place between Renegades vs Adelaide Strikers. It is going to be a fun thrilled match for all the cricket fans and the venue is at Dockland stadium, Melbourne. The best betting sites in India are offering some amazing big bash league promotions and offers for all the Indian users. Place the bets on this BBL match and claim all the relevant bonus amounts.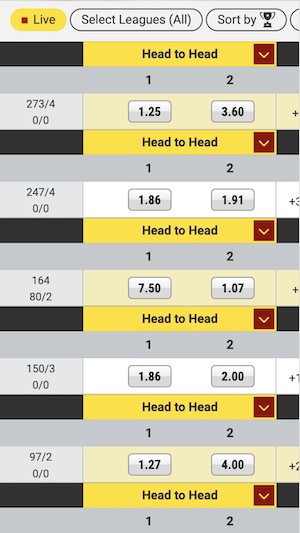 The Renegades are on the 4th position in the score table with 12 points and the Strikers are on the 6th position. Adelaide strikers and Melbourne Renegades head to head metrics are so far 11-6. Aaron Finch in Melbourne Renegades so far is the top scorer in the Big bash league whereas the Tom Rogers is one of the favorites bowler been in this league. Trust worthy bookmakers such as dafabet India, bet365, 1xbet are providing the BBL promotions and offers.
Renegades vs Adelaide Strikers cricket betting odds
In this tournament, Matthew Short is the leading run scorer in the tournament with total of 458 runs. Wes Agar knocked 2 for 26 and been considered as the favorite player in this league. Matthew Short's 100 and two 50's in this 2022-2023 Big bash league is remarkable. We have listed the cricket betting odds below on the best players from both the squads. Kindly have a look at it and choose the preferred bookie to place the bets.
Renegades vs Adelaide Strikers betting odds
Tips
Aaron Finch
3.75
3.90
3.75
Shaun Marsh
5.50
5.80
5.50
Tom Rogers
3.60
3.70
3.60
Matthew Short
3.75
4.25
4.30
Adam Hose
4.75
4.00
4.70
Wes Agar
5.50
4.50
4.20
Aaron French stood with 54 runs not out from 34 balls against the Perth Scorchers in the recent match whereas the Shaun Marsh scored 54 runs from 34 balls. Including these players, the Tom Rogers has been considered as one of the strongest players in the squad. Agar knocked 17 wickets at an average of 19.58 in the big bash league this season.  Adam Hose also scored top in the recent match against the opponent, Perth Scorchers.
Adelaide Strikers vs Melbourne Renegades match prediction
This match is crucial for both the teams, Renegades and the Strikers in order to qualify for the knock offs. This match would be a bit tougher for the Adelaide strikers without the Rashid khan and Chris Lynn whereas the Renegades still has some of the best players in the squad playing in the upcoming match. Considering all the factors and the metrics so far in this tournament, Renegades has the better chances to win this match. Take this opportunity and bet on the best bookies via best betting apps in India.
Renegades vs Adelaide Strikers winner outright odds
Tips
Ren
1.83
1.80
1.80
Ade
2.00
2.80
2.00