Australia Vs Sri Lanka Betting Odds Comparison 25.10.22
The next T20 World Cup match is going to take place on the 25th of October between Australia and Sri Lanka. So far 18 T20 matches have been completed and this is the succeeding match which will start at 04:30 PM, Indian Standard Time. Both the teams have completed their first match where Sri Lanka made their debut win and Australia hasn't any.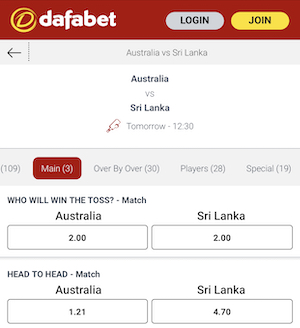 Watch the live match with never ending entertainment, be yourself preferred with sports betting bookmakers to get out and out fun. With the betting sites, you can predict the match outcomes and place a bet on it. We have selected three best betting sites in India to compare the betting odds where the chosen ones are Betway, Betwinner, and Dafabet.
Australia vs Sri Lanka odds comparison
You can place a large number of bets in the bookmakers' sites depending on the type of bet types. Bets are provided in every type of category and currently we have provided the odds favoring the match to win. If you are  a punter and can make right predictions, then place your bets based on the suggested odds mentioned below:
Australia Vs Sri Lanka
Tips
AUS
1.19
1.22
1.21
SL
4.66
4.33
4.70
Even there are other categories in the betting market, for instance placing the bet on team that wins the toss and if the outcome has occurred as predicted, then you can make extra earnings on it. The table mentioned below describes the odds that favors the team that wins the toss, feel free to place your bets based on the team you support.
Australia Vs Sri Lanka
Tips
AUS
1.91
1.90
2.00
SL
1.91
1.90
2.00
These are just two categories of odds, similarly you can check other types of odds from any chosen bookmaker to place your bets on it. Looking at the table mentioned above, we can clearly see that dafabet is offering better odds compared to other bookies. Check out the dafabet app page to download the app to get instant access to all the sports betting events.
Australia Vs Sri Lanka Match Prediction
In the previous match Sri Lanka itself entertained us with their massive performance and won the match as usual with teamwork. But Australia failed to give a good performance and totally collapsed in the first match of the Men's T20 World Cup and lost the match with a huge negative run rate.
But still when it comes to Australia and Sri Lanka, at the end of the match Australia has the maximum chance to win. So we can expect a nice comeback from the Australian squad, let's count the hours to witness the winners of the match. For more information about the dafa sports, have a look at our dafabet review page.