Australia Vs West Indies Betting Odds Comparison 07.10.2022
Before playing the T20 World Cup, Australia and West Indies are planning to play a 2-match T20 series. While the 1st match has been completed, we are eagerly looking for the 2nd and deciding match of the series. The 2nd T20 is going to happen on 07-10-2022 and Brisbane will host the match from the Afternoon 1:40 PM as per the Indian Standard Time.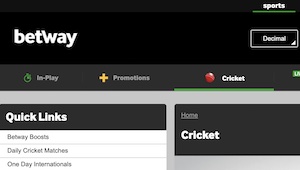 As the 1st match was won by Australia, this 2nd match will decide whether Australia can win the series or not. But you can decide your winnings by applying your cricket knowledge and prediction capability, you can win a lot by placing the bets on the best betting sites in India like Betway, Betwinner and Bet365.
Aus Vs WI Odds Comparison
Odds are one of the main aspects that needs to be observed in sports betting bookmakers and these odds will be provided as per the team's previous performance. If we have a look at the previous match, both Australia and West Indies have different endings.
West Indies played the first innings and scored a decent knock of 145 runs, Australian bowlers were very good in bowling attack as they took 9 wickets. In the chasing process even Australian batsmen also struggled a lot and lost 7 wickets. After a seat-edge thrilling batting, Australia managed to chase the target with just one ball remaining.
So by comparing these previous performances and overall team performances, bookmakers have provided some unique odds for both the teams. The odds are mentioned below:
Australia Vs West Indies
Tips
AUS
1.22
1.24
1.25
WI
4.30
4.02
4.00
Looking at the table, we can notice that all the bookies are providing equivalent odds, however betway is providing better odds compared to other bookies. Also, check out the betway app to have quicker access to the sports events on the bookmaker's site.
This is not the only way where users can have fun with odds, because there are more multiple ways that odds can be provided. Like if you place a bet on a match, then you need to wait until the match ends. But if you want to have a quick result, then you can place a bet on the team that wins the toss.
Australia Vs West Indies

Tips
AUS
1.90
1.90
1.90
WI
1.90
1.90
1.90
Match prediction
Both the teams have an equal chance to win the match, but one team will win at the end of the match. If we have a comparison between the players from both the teams, then it will be Australia.
Australian batsmen and bowlers can play magical innings in T20, that too against a team like West Indies. West Indies players are very good hitters; they can hit boundaries easily, but sometimes the hitting might fail resulting in the loss of wickets. There are higher chances for Australia to win the match. To know more about the bookie, have a look at our betway review page.