England vs India 3rd ODI Betting Odds Comparison
This England vs India ODI series is going to be one of the remarkable series in the history of cricket, because first ODI was won by India with a 10 wickets margin in which England were all out at 110 runs and second ODI was won by England with a 100 runs margin where India failed to chase the 246 target and lost all the wickets at 146 runs. The engaging 3rd ODI will be played on the 17th July at 3:30 PM at one of the world's best cricket stadiums, Old Trafford, Manchester.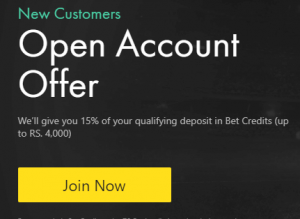 If you are good at cricket and want to use your knowledge to make the gaming journey exciting, then it is the time to predict the winners and place your bets. Since there are a lot of bookmakers in the betting market, we have chosen three best betting sites in India that offer excellent betting features along with amazing promotions. The selected bookies are Betway, Betwinner, and Bet365 with their respective odds on India Vs England 3rd ODI match.
England vs India 3rd ODI odds comparison
For this third ODI between England vs India, odds are provided by each and every book maker and you need to choose the best one to place a bet. For the other content in the bookmaker like offers, bonuses, promotions, etc will also provide the other opportunities based on the same matches, so to know those bonuses visit the sports bonus page. The bookies and their corresponding odds are explained in the table below.
India Vs England

Tips
IND
2.00
2.00
1.99
ENG
1.72
1.72
1.80
All the given bookmakers are approximately providing the similar odds for team India whereas Bet365 is providing the best and higher odds for team England. Take this opportunity and go through the Bet365 for better experience and entertainment. Players can also download the bet365 app to access all the sports events and other promotions to enjoy a unique experience.
England Vs India Match Prediction
Both India and England have shown their best performances in the first and second ODI. In both cases bowlers have ruled the matches from both the teams and in the third ODI also the same thing may be repeated.
So except bowling departments we can see much better batting from the England side in this series so unless bowlers restrict England within a very small score there is huge chances for England to win the match. To know more information about the bookmaker and its features, have a look at our bet365 review page.