GT Vs RR Qualifier 1 Betting Odds Comparison 24.05.22
Successfully the Indian Premier League phase has been completed with a total of 70 matches and have entered the playoffs. A total of four matches will be played in the playoffs and this qualifier 1 is the first match. The first match of the playoffs will be played at the home ground of KKR which is Eden Gardens, Kolkata. On Tuesday, 24th of May you can witness this match and it will begin in the evening at 07:30 PM, Indian Standard Time. The match is going to happen between Gujarat Titans and Rajasthan Royals.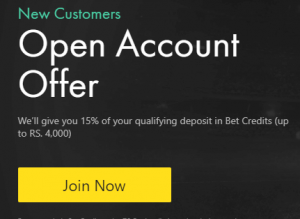 To make this match more entertaining, it's time to visit the sports bookmakers by placing bets on the given odds. We have chosen three best betting sites in India which are Betway, Betwinner, and Bet365 India.
GT Vs RR Odds Comparison
Both the teams have struggled a lot to reach these positions but as of now Gujarat Titans and Rajasthan Royals are heading to reach the finals if they win. Odds are being represented by the previous matches and their performances too.
Every bookmaker offers regular promotions to their registered players who haven't made their first deposit, and to know more about the offers and their terms and conditions have a look at our sports betting bonus page. Now every player user can claim some extra money and make big winnings through a bonus. The odds on this current match have been mentioned in the below table for the 3 sports betting bookmakers.
GT Vs RR

Tips
GT
1.79
1.80
1.80
RR
1.99
2.00
2.05
Looking at the above-mentioned table, everyone can see that Bet365 is best in providing the odds for both teams. If you are looking to place the bets on your favorite teams then you can choose Bet365 to achieve it.
Also, players can download the bet365 app to access and place the bets from the app itself. Just like the desktop features, every sports event, promotions, payment methods, etc can be accessed from the app. It has been well built with a good interface and the quality is top notch ensuring to provide a safe to bet atmosphere.
GT Vs RR Match Prediction
Both the teams have been unbeatable throughout the season with great batting and bowling line up, Gujarat Titans and Rajasthan Royals have brought some brilliant memories with their performance in the Tata IPL 2022 edition.
Compared to RR, Gujarat Titans have the better chances of winning this qualifier match as they are on a very good win streak without any long breaks so they may continue this form in the upcoming match.
On the other hand, RR had a brilliant knock in their first phase of IPL but in the second phase so it may be tough for them to bring their form back. To know more about the bookie and their features, have a look at our bet365 review page.