SRH Vs RCB Match 54 Betting Odds Comparison 08.05.22
Another day, another doubleheader match, this afternoon from 3:30 PM on 8th May 2022. Sunrisers Hyderabad and Royal Challengers Bangalore are going to compete against each other, where Wankhede Stadium, Mumbai is going to host the match.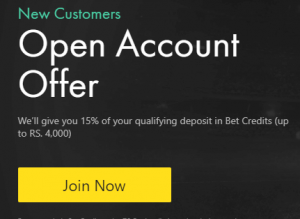 Digitally there are many sports betting bookmakers available on the internet, if you are well skilled in the sports like cricket then you can utilize those skills and can make big winnings in those bookmakers. Do your prediction on your winning team, then place your bet on the best betting sites in India: Dafabet India, 1xbet, and bet365.
To place a bet on these bookmakers, you need to be a member of them. So first visit the website and create your own account by simply clicking on the register and providing the information like name, mobile number, email address, bank details, etc. This registration process will not take a long time so you can register yourself in a shorter period.
SRH Vs RCB Odds Comparison
When two teams are playing in a match then according to that team's previous results and player's performance individually, the odds will be given in this present match. So keeping the odds aside, have a look at the table and place a bet on the bookmaker which is providing the best odds.
SRH Vs RCB

Tips
SRH
2.03
2.02
1.92
RCB
1.90
1.83
1.90
Bet365 is providing the best odds for both Hyderabad and Bangalore, so if you are interested in any of the teams in this match then you can go through bet365 for some higher winnings. For the users, this bookmaker is giving different and unique experiences through their Bet365 app as well.
The app is user friendly and provides an easy to bet atmosphere, try the app to save a lot and access the sports events at any you like. Unlike the desktop version, players can access all the bookmaker's events, promotions and other features. To know more about the promotions, have a look at our sports betting bonus page.
SRH Vs RCB Match Prediction
Sunrisers Hyderabad is facing tough times in the past few matches, but still, they have the best bowling squad in this season and are capable of delivering magical spells in this match. Sunrisers Hyderabad is also best at their batting till the middle order, so if they stick together they can give a good comeback through bat and ball.
When it comes to RCB, they have the best playing 11 as Hyderabad does, but they are not keeping up the consistency till the end, except 2 to 3 players rest of the players need to focus on achieving a win against SRH. To know more about the said bookmaker, have a look at our Bet365 review page.