West Indies Vs India 2nd ODI Betting Odds Comparison 24.07.2022
The 3 match ODI series between the West Indies and India has been kicked off in an unforeseen way. It was an immense batting from both the sides with plenty of game spirit. Now it's time to pay attention to the 2nd ODI that will be held at the Queen's Park Oval Stadium, Port of Spain, Trinidad. The game will gear up once the clock ticks 7 PM, Indian Standard Time on the 24th of July.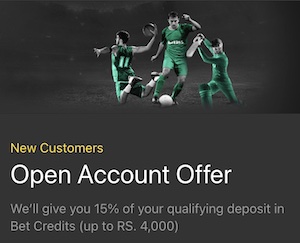 If you are a cricket lover, then it is time to put your bets on your favorite time using the online bookmakers. Here you will get a chance to experience the immeasurable fun and enjoyment with sports matches, even with your blazing expertise on the sports matches you can grab an opportunity to make extra earnings. We have chosen the three best betting sites in India on this exciting match which are Betway, Betwinner, and Bet365.
West Indies Vs India 2nd ODI Odds Comparison
It was an appreciative performance by West Indies in the previous match however the odds will change as per the previous match stats. Odds will be issued and presented by comparing the previous match result and the average result of both the teams in those formats. To know about the odds of the respective bookmakers, have a look at the table below.
You can also find these fun filled content at promotions, offers, and bonuses by checking out our sports bonus page.
West Indies Vs India

Tips
WI
3.25
3.34
3.40
IND
1.30
1.31
1.33
Looking at the table, we can clearly see that bet365 is providing better odds compared to other bookies. To experience all the sports events and other features on the mobile devices, players can download the bet365 app today. The betting app is simple to use and provides an easy to bet atmosphere.
West Indies vs India 2nd ODI Match prediction
Team India is quite stronger compared to West Indies by looking at the previous match performance, there are higher chances that India is going to win this match. However, West Indies has given the tough competition as they let the opponents win the match just by 3 runs.
But when you check out the overall performance and recent results of both sides, then India has the best winning result as compared to the West Indies, so India has the chance to win the 2nd ODI. To obtain more information about the bookie and its features, have a look at our bet365 review page.