India vs Netherlands Betting Odds Comparison 27.10.2022
It would be definitely a good match to watch the clash between India and Netherlands, it's the second match of the day where we may not see a seat edge thriller but we can witness a game full of efforts and struggles from Netherlands. This match will be played at Sydney Cricket Ground on the 27th of October at 12:30 PM, Indian Standard Time.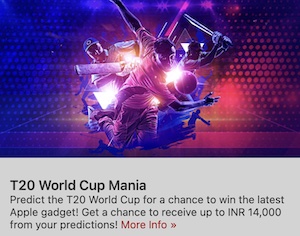 If you are very good at predicting the match winner, then take this chance to place the bets on your favourite team. It is quite important to choose the right bookmaker that offer better odds and we have chosen three best betting sites in India which are Betway, Betwinner and Dafabet. Here we can have several bets with various odds.
India vs Netherlands Betting Odds Comparison
It's time to evaluate your own betting sites as in this section you will find out the bookmakers' betting odds and a chance to earn extra earnings. All you need to do is to place your bets on your favourite team depending on the odds given below:
India Vs Netherlands
Tips
IND
1.01
1.03
1.03
NED
14.00
13.00
14.50
If you have some great prediction skills regarding the match, then you can follow the above mentioned table and place a bit on the team that you think will win the match, or you are the one who can predict very well on the toss winner then you can just simply go through the below table where you can watch out the respective bookmakers and their odds on the team to win the toss.
India Vs Netherlands
Tips
IND
1.91
1.90
2.00
NED
1.91
1.90
2.00
If you are looking for some other bets like best individual performer, top scorer of the match, total runs in the power play, total runs in the match, etc then visit the sports putting book makers for some detailed information. From the table, we can clearly state that dafabet is betting competitive odds. Check out the dafabet app to play your favourite sports events without any interruptions.
India Vs Netherlands Match Prediction
It doesn't mean that every prediction will go 100% correct, but 100% correct prediction will be provided based on the previous performances and overall average performances. Looking at the teams previous match performances and statistics, we say that team India has the better chances of winning the match.
But still it is not certain that Netherland will lose the match because they struggled a lot to enter into this super 12 which shows their efforts toward this tournament, so if they come with a different strategy and play very bravely against India then they have chances to win the match too. Let's check out the match tomorrow and to know more about the bookmaker, have a look at our dafabet review page.