SL Vs UAE Men's T20 World Cup Betting Odds Comparison 18.10.22
From the Group A, both Sri Lanka and UAE have completed their first match and both have lost their first matches, now they are gearing up to the second match as opponents and surely there's going to be a tug of war between them, as the losing team will be officially out of the tournament. This match will take place on the 18th of October 2022 from  1:30 PM onwards as per the Indian Standard Time.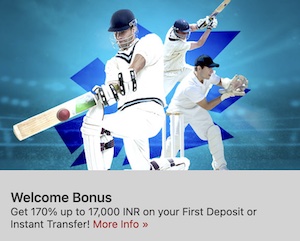 Simonds Stadium, Geelong has been locked as venue of this match, but betting lovers can place their bets from anywhere across the world. Best sports betting bookmakers like Betway, Betwinner, and Dafabet will provide you the best ever experience while using them.
SL Vs UAE Odds Comparison
Odds play a major role in sports betting bookmakers and these odds can decide how much you can earn in the match. There are various categories of odds available in this bookmakers, so that every type of action in the match can be covered to place a bet.
There are some of the main odds to place a bet, and placing a bet on the match winner will be one of them. The respective odds from different bookmakers has been explained in the table below:
Sri Lanka Vs United Arab Emirates
Tips
SL
1.08
1.08
1.10
UAE
7.00
7.90
7.80
Not only on the match but also users can place a bet on the pre match events of the match like the toss. If you can predict the toss winner between two teams, then you can try your luck by placing a bet on the team to win the toss.
Sri Lanka Vs United Arab Emirates
Tips
SL
1.83
1.91
1.92
UAE
1.83
1.91
1.92
These are the odds from the bookies and there are a variety of combination of odds provided by the bookies and apart from that, there is a lot of entertainment waiting for you with different categories. So without any delay have a look at the sports betting bookmakers and place a bet that you look so confident on. Download the dafabet app to enjoy the instant access to all the bookie sports events without any interruption.
Match prediction
Both the teams have lost their first match and the current match can give the hopes in this tournament, so it would be a very important match for both Sri Lanka and UAE and they need to give their 100% to win the match. Currently as per the comparison Sri Lanka is looking quite tougher compared to the UAE.
So there are  high chances for Sri Lanka to give a great comeback and create a hope in this series to get qualified. If Sri Lanka loses, Sri Lanka will be officially out of this tournament and UAE will grab their chance to qualify to super 12. To know more about the bookie, have a look at our dafabet review page.